SMASH COMICS




End 2003, I made a Smash comic. I had a funny joke for it and everything, but then it happened... I saved the picture without any text in it, and eventually forgot what the joke was.
Well, it was a shame to waste a good comic, so I figured, why not make a contest of it?
So I uploaded the picture.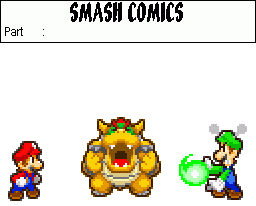 Well, the contest was fun, we've had a lot of humorous entries, unfortunately we also lost a few because the messageboard rolled back to a few days before the contest was posted.
But the salvaged ones can be read and laughed about right here!

But first... The winner of the contest.

I've gone over all of the entries, and... I have to say, it was difficult not being biased to the guy who already made the comics into picture form.
Nevertheless, incidentally, he also made the funniest one of the pack.
So here's the winning Smash Comic, by Squiggles the Chao!!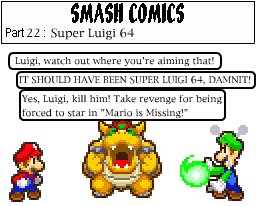 And now, the runners up, in chronological order!
(Meaning, in order of when they were posted up. Last ones go... last.


-Kiddo Cabusses

Mario: "Mama Mia! Bowser's a-gonna turn a-Super-a-Turtle-thingie!"
Bowser: "RWAARR! WITH THIS TRANSFORMATION MY FULL POWER WILL BE COMPLETE!"
Luigi: "Arg... can't... throw fireball... transformation... paralyzing... damn you... anime physics...!"


-Electric the Hedgehog

Bowser: Fwahahaha!
Luigi: Like, poodle ears are SO not my type! Eat Mastibation lollypop!
Peach: And turning me into Mario isn't exactly what you would call a sinister plan! Mama-mia!


-Another one by Squiggles the Chao...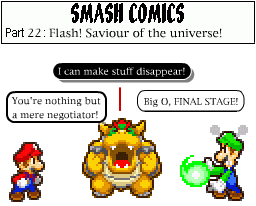 -Mog

Mario: (Anime line here)
Bowser: (Full power line here)
Luigi: (Name of attack here)


-AshuraMST2K

Mario: He's-a gonna blow!
Luigi: World-a record fart fire, here-a we come!
Bowser: That's the LAST time I eat at Taco Bell!


-Domokun

Mario: i am sad
Luigi: i care not
Mario: you luigi
Luigi: i not chucle rather flexing muscle
Bowser: desperate battle
Bowser: ween


-Wanderer Staroxide

Mario: I'm telling you Luigi, Princess Daisy really does like you!
Luigi: LIES! ALL LIES!
Mario: I'm not lying!
Luigi: I'm not falling for your tricks again after you the Mushroom incident!
Mario: Luigi, I didn't know that was the "special" Mushroom, I swear!
Bowser: SHUT UP, THE BOTH OF YOU!


-Bartman

Luigi: *Holds a middle finger spouting a flame over it*
Mario: You'sa gonna get it now!
Bowser: To the death you toads!


-HEDGESMFG

Bowser: BAH! But "I" wanna star in a game and save the Princess for once...
Mario: No way! You're green, and what Hero has ever been green that hasn't sucked?
Luigi: I'll show you what "Green" can do...Biatch.


-Smindas (A.K.A. Knux9)

Mario: Luigi, he's about to explode and kill us all - do you really think hitting him with a snottified fireball is gonna help?


-AJ

Luigi: Omoratotoretorebaro.

(Note: Click the text for the sound effect. It's Luigi's "Gibberspeak" sound effect from the new Gameboy advance RPG, "Mario & Luigi: Superstar Saga".)


-Crazy Mr. Leo

Luigi: For the love of GOD, why are there LIGHTBULBS coming out of my HEAD?


-Drak Kriby

Mario: eat
Bowser: at
Luigi: joe's
(Note: This quote served as a placeholder to show off the image. Click Here to see it.)


-Spazz

Mario: TEHR SI PATNS NI TEH LIFVIGN RUUM
Bowser: WTF FAGR0XXD
Luigi: You guys suck, you're both gonna burn.


-Super SoNick

(Mario and Luigi team up to defeat Bowser )

Mario: I want to finish him!
Luigi: Too late!


-Keith Stack

(Mario and Luigi don't seem to like Bowser's new catchphrase.)

Bowser: It's got the arcade feel!


-And finally, another one from Kiddo...

Bowser: CASTLE GIGA POWAH, MAKE UP!
Luigi: Oh, drat. A Transformation. Now these things on my head are forcing me to stand still. Damn you anime physics.
Mario: ... ooo. Fanservice. Anyone got any hentai?



And that wraps up the caption entries. I might do this again in the future.

GO TO NEXT.







Most sprites ripped and edited by myself, but some sprites were ootilized from the sprites section at Psycho's site.
Any sprite that's not ripped from or edited from a rip of a regular "game" sprite has a high chance of originating at above mentioned site.
If you want to know who made some of those custom sprites, check there.

All displayed characters in this comic are either © NINTENDO or © HAL.
This comic is meant to parody, and hopefully amuse.
I am not affiliated with any characters displayed on the "Smash Comics" section of the site.


-H Hog
Coldflame Enterprises